Shopping Cart
Your Cart is Empty
There was an error with PayPal
Click here to try again
Thank you for your business!
You should be receiving an order confirmation from Paypal shortly.
Exit Shopping Cart
| | |
| --- | --- |
| Posted on December 6, 2014 at 11:25 AM | |
Kurt Sutter Apologizes For 'Sons of Anarchy' Finale Spoilers.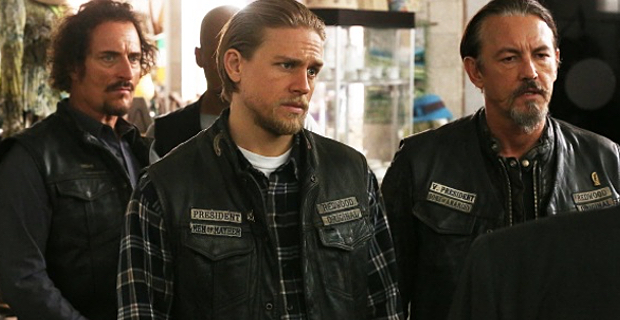 This Tuesday marks the series finale of FX's most fanatically adored drama since The Shield, Sons of Anarchy. However, for a select few, the ending came sooner than expected. In anticipation of the upcoming final episode, a few book outlets accidentally released a series companion book ahead of schedule that contained the events that take place in the episode. Upon learning of this, series creator Kurt Sutter took to social media to offer a statement, as well an apology to everyone that had the finale ruined for them.
Said the writer:
It has been brought to my attention that our 'SOA Collector's Edition Book' has been sent out a week early by some distributors and book outlets. This book contains details about the final episode of the series. This, my friends is a storyteller's worst nightmare. I wanted this book to be a compliment to the show. It contains personal messages and photos from the cast, in-depth behind the scenes information and detailed breakdown of episodes. It's a smart, well-conceived book that I was very excited for the fans to have. AFTER the mother****ing finale. There are a thousand ****ing people I can blame.
And I assure you, by the time I am done, my ****ing basket will be filled with heads of incompetent ****s. But as far as the fans go, the burden is on me. I ****ed up. It was my idea for the book, so ultimately, I am to blame. So if you received a book, I apologize. I ask that you not share your wrath or pain or opinion in social media so as to not spoil the experience of others. There is no excuse for utter ineptitude. It pains me that this will be the parting memory of some fans. I hope you all tune in for the finale. It plays much better than it reads.
It was less than a week ago that we discussed, at length, what the etiquette should be for television and movie spoilers via social media, but at no point did we suspect we were going to have to include companion books in that discussion.
On a serious note, it's a bummer to know some fans had their final moments with the SAMCRO gang ruined because someone couldn't get their mailing dates right. But what worries us more is the possibility of one of those fans venting their frustration to the world and, intentionally or not, spoiling the finale for the rest of the viewing public that has yet to view it.
In this writer's opinion, the FX motorcycle drama has been hitting nothing but high marks in its final season (the penultimate episode in particular). It would be a travesty to think everything could come crashing down in such an awful, spoilery fashion when we're this close to the finish line. So, with that in mind, all we'll say is this: going into the next four days, be wary of all things related to Sons of Anarchy on the Internet. You never know what you might be walking into.
However, if you do accidentally come across something you wish you hadn't, always remember the culprit can be taken to the table for a mayhem vote… okay, maybe not something that extreme, but there will be a public blocking of some kind.
Just be careful out there folks, you know the drill.
Sons of Anarchy's series finale airs Tuesday @10pm on FX
Categories: T.V News & Reviews
/