Shopping Cart
Your Cart is Empty
There was an error with PayPal
Click here to try again
Thank you for your business!
You should be receiving an order confirmation from Paypal shortly.
Exit Shopping Cart
| | |
| --- | --- |
| Posted on December 23, 2015 at 11:05 AM | |
This unique and daring cinematic experiment takes the viewer deep into the heart of darkness of the early American frontier.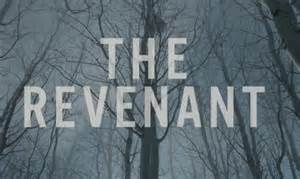 Inspired by true events and Michael Punke's novel of the same name, The Revenant, Oscar winner Alejandro G. Iñárritu's follow-up to Birdman, chronicles the almost unimaginable ordeal of fur trapper Hugh Glass (Leonardo DiCaprio), who was mauled by a bear and left for dead by his men in the frozen wilderness of 1823 America ... only to survive and then seek his revenge. Hugh Glass was basically a real-life Chuck Norris joke -- only no one thought it was very funny when he showed up half-dead and looking to kick some serious ass.
The film begins with a fur trapping expedition -- led by Captain Henry (Domhnall Gleeson), whose members include the scout Glass, Glass' half-Native American son Hawk (Forrest Goodluck), the scowling, self-interested trapper Fitzgerald (Tom Hardy), and young Jim Bridger (Will Poulter), who will one day become one of the Old West's most legendary mountain men -- coming under attack by a party of Arikara.
It's a brutal battle that leaves the trappers in a bind where they have to abandon their highly valuable beaver pelts if they're to escape the Arikara's wrath and survive. The Arikara seek vengeance on the unidentified white men who have kidnapped their chief's (Duane Howard) daughter. As the trappers make their escape, Glass is attacked and horribly mauled by a grizzly (in one of the film's most unforgettable sequences). Captain Henry assigns Fitzgerald and Bridger to stay with the seemingly doomed Glass and give him a proper burial once he dies. Alas, the duo don't follow their orders and leave Glass to die. What follows is a long, brutal journey of both physical and emotional endurance by Glass to exact his revenge.
This is one hell of a filmmaking feat by Iñárritu. Shot by Emmanuel Lubezki using only natural light and employing many complicated tracking shots, The Revenant's shoot is already the stuff of legend. It filmed in the remote wilds of Calgary and Argentina (yes, they really went all the way there for snow) to double for the American frontier. You can practically get hypothermia just watching the movie it looks so damn cold and miserable out there. But as grueling as the shoot was, what ends up on the screen works -- beautifully, brutally -- in fully immersing you in another time and place. You are there, fighting to survive against both man and nature
You'll witness just how arduous survival on the frontier was, from simply trying to find sustenance to how to treat wounds (there's a gunpowder trick here that I'm convinced some jackass out there will try after seeing the film). There's even a sequence that fans of Empire Strikes Back may find very familiar
And yet all of the film's visually arresting set-pieces would have been in vain had the viewer failed to connect with the characters. Thanks to great lead performances by DiCaprio and Hardy, you are invested in the human element of this tale of survival and vengeance. Glass' loneliness, desperation, bond with his mixed race son, and painful memories all make him a sympathetic and moving character, an all the more remarkable accomplishment given how little dialogue DiCaprio has
This is Leonardo DiCaprio as you've never seen him before, and as a character who is utterly badass. If you thought Leo looked all frozen at the end of Titanic then you ain't seen nothing yet. This is a vanity-free performance, and a very nuanced one at that. Some of DiCaprio's most powerful moments here see him use the power of stillness as he lies injured and helpless observing what's going on around him.
Hardy's performance is definitely the showier of the two leads, with Fitzgerald being as scarred psychologically as he is physically. He's ruthless, practical, greedy, bigoted, tough as nails -- so basically probably exactly what fur trappers were really like. Poulter and Goodluck bring youthful vulnerability to their respective roles, while Gleeson imbues what could have been a one-note character with earnestness and humanity.
Categories: T.V News & Reviews
/